SevenDegrees AU / VST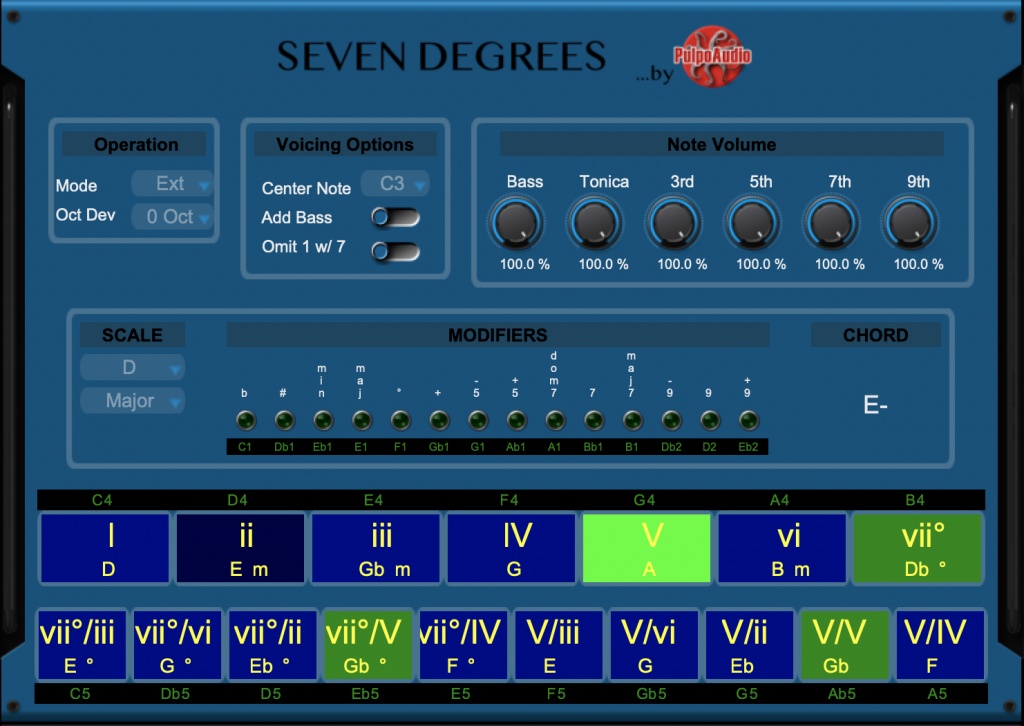 This is a tool ( MIDI effect as AU / VST3) that lets you navigate through the chords that belong to a selected scale and so, explore and create chord progressions pressing only one note on your physical MIDI keyboard.
This way, you don't have to worry about how those chords are actually played and you can get quick and great results even if your piano skills leave a lot to be desired.
Play the seven chords (degrees) belonging to a musical key and ten alternative chords with only one stroke on the keyboard and explore and create your own chord progressions.
Change the musical key (and major/minor) whenever you want using key switches.
Add colour to the chords (seventh/nineth/dim/aug/…) using key switches.
a heat map on the UI shows you which next chords you can choose from here.
Supported OS and DAWs
Currently there are versions available for
AU for MAC OS / Logic Pro X (tested on versions Catalina 10.15.2 and Logic Pro X 10.4.8)
VST3 for Windows 10 (64Bit) and 64Bit-DAW that supports VST3 Midi effects ( currently tested with Reaper).
Downloads
By downloading this software you agree to the End User License Agreement (EULA). Please read it carefully.
VST is a trademark of Steinberg Media Technologies GmbH, registered in Europe and other countries.